Women in Algae
Cal-CAB and EDGE have teamed up to host an event series for Women In Algae to connect aspiring algae scientists, engineers and professionals in the algae community. The series will highlight the issues of women in science and provide valuable networking opportunities with many talented women in the growing algae industry. The innaugural event was held as an annual reception preceding the Food and Fuel for the 21st Century Symposium, and will hopefully be a launching point for informal meet ups with local and national algae events throughout the year.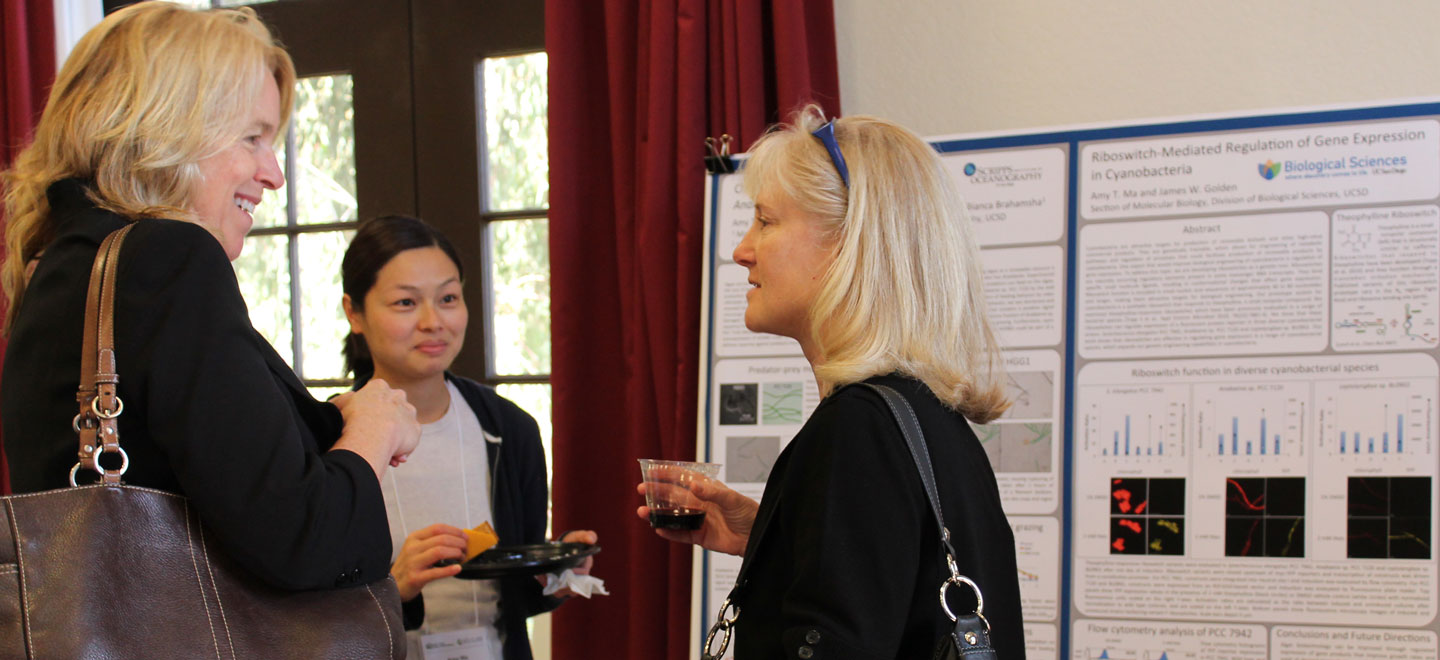 Aims
Leverage Cal-CAB's status as a leading center for algae biotechnology to provide a forum for women throughout the algae industry to network and share information about career advancement and skill development.
Attract talented female undergraduate and graduate students to the field of algae biotechnology, and to relevant training programs.
Promote an inclusive and diverse culture starting in the early days of the growing algae industry.
Audience
This series aims to attract undergraduates, graduate students, postdoctoral researchers, and early-level career women looking for looking for mentors and career development advice in the young algae biotechnology sector.  Participation by faculty and academic staff, as well as mid- and senior-level career women in the algae biotechnology sector is crucial. The series will target people from across many areas, including biology, chemistry, engineering, economics, policy, business and administration.  Men are also welcome to participate.
Stay Connected
To find out about upcoming Women in Algae events, subscribe to the FF21 mailing list and select the Women in Algae group. Events will also be posted to the Women in Algae LinkedIn group.
Local Resources
Graduate Women in Science and Engineering - GradWISE
UC San Diego Society of Women Engineers - SWE
Society for Women in Graduate Studies in Chemistry and Biochemistry at UC San Diego - SWIGS
UC San Diego Center for Research on Gender in the Professions - CRGP
UC San Diego Women's Leadership Alliance - WLA
MystartupXX - UC San Diego technology company accelerator for female students at the Rady School of Management
Association for Women in Science - San Diego Chapter - AWIS-San Diego
Better Education for Women in Science and Engineering - BeWise
Upcoming Events
There are currently no upcoming seminars. Check back soon or join our mailing list to stay up to date.
June 17, 2016
5:30 PM - 8:30 PM
Sumner Auditorium at Scripps Institution of Oceanography
Speakers
Dr. Susan Golden - HHMI Professor, Chancellor's Associates Chair (III) In Molecular Biology, Director, Center For Circadian Biology, Distinguished Professor
Dr. Eva-Maria Collins - Assistant Professor, Physics, Section Of Cell And Developmental Biology
Cal-CAB featured Women in Algae in their monthly student and postdoc seminar series to connect aspiring algae scientists, engineers and professionals in the algae community. More than 20 attendees heard talks on implicit bias and mentorship for Women in STEM. Dr. Collins introduced her upcoming NSF-funded personalized mentorship program for Women in STEM at UC San Diego. They are currently looking for potential mentors from throughout the career spectrum and from beyond academia. Dr. Golden introduced the concept of implicit bias, especially as it relates to the hiring process. She provided some excellent resources and tools for job seekers as well as those in charge of hiring, to reduce the incidence of implicit bias throughout the hiring process. We highly recommend checking out the resources below, and incorporating the Gender Bias Calculator for Recommendation Letters into your letter writing or requesting process.
Resources
Further information on Dr. Collins' NSF-funded Women in STEM mentorship program to come.
March 11, 2015
5:30 PM - 9:00 PM
Fiftēn, The Village at UC San Diego
This inaugural networking reception attracted nearly 75 attendees for a catered reception with three senior academic and industry speakers discussing career paths and advice from academic and industry perspectives, as well as diversity and retention of female student in engineering programs. Local Women in STEM and Business resources were also highlighted.
Speakers
Dr. Susan Lord - Professor and Chair of Electrical Engineering, University of San Diego 
Dr. Sabeeha Merchant - Professor of Biochemistry and Molecular Biology Institute Member, UC Los Angeles
Dr. Laura Carney - Molecular Ecology Group Lead, Heliae
Sponsors
Additional support provided by the UC San Diego Office of the Vice Chancellor for Equity, Diversity, and Inclusion
Related Events Highlighted