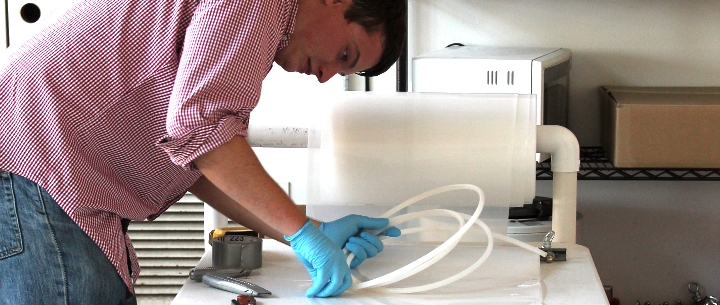 Mayfield Lab Volunteer Opportunities
The Mayfield Lab, in the Division of Biological Sciences at UCSD, conducts research into gene regulation in eukaryotic algae and the use of this algae for the production of human therapeutic proteins and as a platform for biofuel production. Research also involves developing molecular tools for algal genetic transformation. The lab is also part of the California Center for Algae Biotechnology (Cal-CAB) in the Food & Fuel for the 21st Century organized research unit at UCSD.
The Mayfield Lab offers opportunities to volunteers and 199 students to work under the supervision of graduate students, post-doctoral researchers, and lab staff to assist in all aspects of the research, as well as at the greenhouse, algae growth room, and/or other science outreach projects. Volunteers should expect to be assisting in the transformation, growing, harvesting and processing of algae as well as some regular lab maintenance, including preparation of media, solutions, and samples of cultured algae for analysis.
Program Goals
Familiarize students with an algae biotechnology research laboratory.
Offer students an opportunity to gain relevant laboratory skills and apply classroom knowledge.
Offer students an opportunity to perform and contribute to scientific projects.
Duration
At least one academic quarter or summer (~3 months), with renewals possible for up to a total of 1 year. Longer appointments will be considered based on exceptional performance.
Expected time commitment for volunteers: at least 10-20hrs across 4-6 days a week.
Role requires students to arrive on time daily and contribute at least 1 hour a week to general lab duties.
Role also requires students to attend lab meetings and all relevant training sessions.
Preferred Experience
2 years of college including courses in chemistry, cell biology, microbiology, or ecology and 1 relevant laboratory course OR an equivalent combination of education and experience. Current UCSD students are given preference.
---
---
2015-16 Academic Year Application
There are currently a limited number of volunteer positions open for UCSD students for Spring 2016, potentially continuing on through the summer and 2016-17 academic year. There is a competitive application process to fill these positions, including interviews for those short-listed. At this time, applications received will be put into a repository, and reviewed as opportunities become available. Applications for 199 positions, however, will be reviewed upon receipt.
Cal-CAB Research Assistants (posted April 6 2016)
The California Center for Algae Biotechnology (Cal-CAB) is looking for a team of two motivated undergraduates to assist in a project at the Biological Field Station (BFS). This project's goal is to build a library of microalgae that have been collected from various environmental conditions. A large array of aquatic traps will be positioned at the BFS and precise media formulations will create selective pressure for local microalgae. Collected samples will be processed, identified, and characterized for their potential to be grown at large scale in an outdoor environment. Volunteers should expect to aid in precise formulation of various media, chemical monitoring, isolating and identifying microalgae, cultivating and monitoring cultures, and keeping a clean and organized work space. The two ideal candidates will be: (1 - chemist) responsible for basic chemistry in media formulations and monitoring; and (2 - biologist) responsible for sampling and identifying microalgae.
Disciplines: Chemistry, Biology, Ecology, Microbiology
Skills and Qualifications: Minimum 2 years college including courses in chemistry, biology, microbiology, ecology, and associated labs. Skills with a light microscope preferred for the biologist position. Ability to keep good records and work in a collaborative environment.
In order to be considered for a volunteer role in the Mayfield Lab, please complete the application form below and email a copy of your resume and transcript to ffields@ucsd.edu.